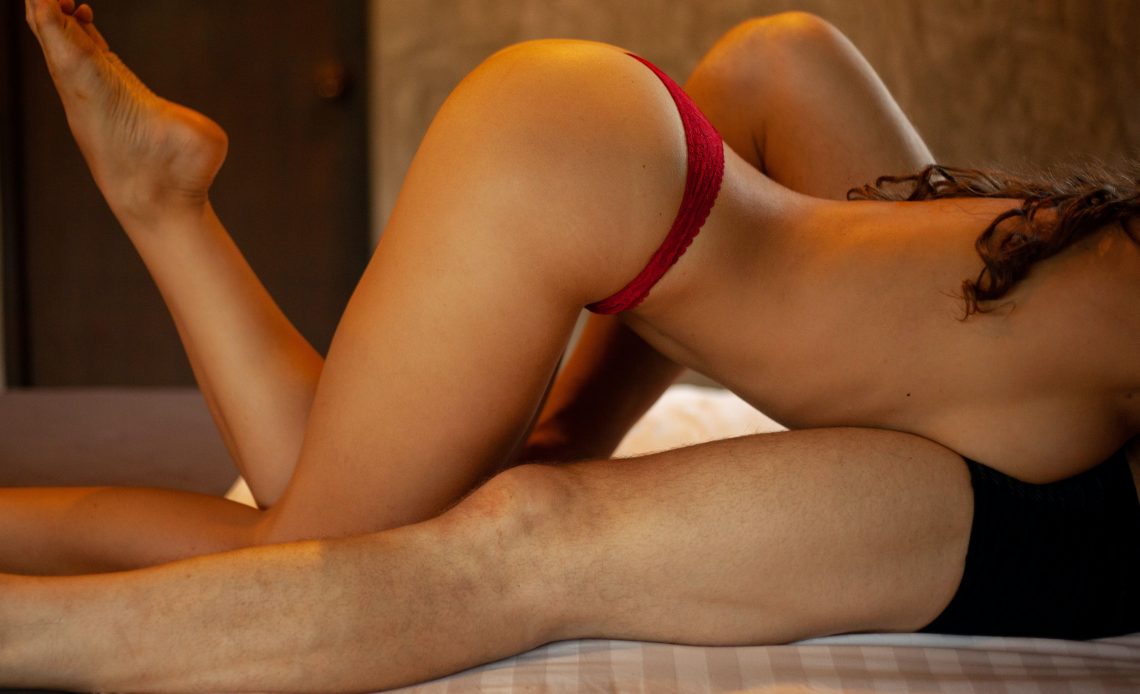 Using the right lube makes a huge difference. The right lube can ensure that your condom doesn't break, or that a first-time anal session goes well—and trust me, if you want there to be a second anal exploit, you can't mess up the first one.
There's a wide variety of personal lubricants on the market, and they're not all the same. You want to consider what type of sex you'll be having—bareback, oral, protected, anal, self-pleasaure—as well as you and your partner's preferences.
In this article, I'm going to make it simple. I'll choose the best lube for every occasion to help you make the right types of memories in bed. I'll even share some daring ones for the more exciting sexual escapades.
The Best Lube for…
You need a good, long-lasting lube for anal play. Silicone lubes last the longest, with some brands using additional ingredients for an even smoother ride.
We love Gun Oil, a silicone-based lube with aloe vera and vitamin E for added comfort and soothing properties. Gun oil lasts, so you can have fun without having to reapply.
Most sex toys are made from silicone, and weirdly enough, silicone lubricants degrade these toys. Therefore, you should choose a water-based lube when using dildos, fleshlights, or other sex toys.
Sliquid H2O is amazing for use with sex toys. It's 100% natural, meaning you don't have to worry about any irritation. It's even made in the USA, so you know it's the good stuff.
You must use a water-based or silicone-based lubricant with condoms. Oil-based lubes lead to condom deterioration—and no one wants an unexpected pregnancy, especially with a casual hookup.
Wet Platinum Lubricant is a silicone lube made using high-quality ingredients. The up-side to using a silicone lube is that it lasts much longer than a water-based one. Meaning, you don't have to reapply it often, and it will work for extended sexual play.
When it's just you and your partner, you typically won't need the more expensive, long-lasting silicone lube. Because the body makes its own lubricant, it's best to find something that compliments what's already there.
For unprotected sex, a gentle water-based lube is ideal. These lubes are less likely to cause any irritation, and the sensation is more natural than slippery oil lubricants. Pure Romance Just Like Me lubricant is excellent when you simply need a bit more comfort.
We know you don't need lube for oral sex…but that doesn't mean it can't be fun. To spice up oral sex, opt for a flavored lubricant.
Our favorite flavored lube for fellatio is Aloe Cadabra Piña Colada. The flavor is actually good, not overly sugary or synthetic tasting. Plus, it's great for penetrative sex, too. The ingredients are natural (it's even sold at some Whole Foods), and it doesn't feel overly slippery.
For the adventurous, why not try out a lube that does more than lubricate? To add an extra edge to your evening, try warming, stimulating, or tingling lubes.
Because the ideal sensation for women and men is different, we recommend trying K-Y Yours & Mine. The woman's lube adds a tingling thrill while the man's adds a kick of warmth, amping up your sex life.
Self-Pleasure and Male Enhancement
Most guys grew up just finding the closest lotion or kitchen oil, but using the wrong product can lead to chafing, burning, dry skin, or other irritation. You're an adult now—you don't have to waste any more time feeling anything less than extraordinary.
If you're serious about having a good time, whether with yourself or others, it's best to have one water-based lube and one silicone-based lube.
Water-based lube is cheaper and safe to use with sex toys, but it doesn't last as long. Our favorite water lube for self-pleasure is Yes WB because it lasts longer than most and is great for masturbation, sex with or without condoms, and sex toys.
If you want something that lasts longer, go with a silicone-based lube. Just make sure not to use it with silicone sex toys. Boy Butter is a blend of silicone and coconut oil for long-lasting, moisturizing fun.
For guys who are using the Phalogenics male enhancement plan to add inches to their erect size, you can use any lube to make the exercises more effective and comfortable.
And if you haven't joined Phalogenics yet, click here to learn more about a safe, easy, and affordable way to grow the one muscle in the body that matters most.
PHALOGENICS This Simple System Grows Your Dick LEARN MORE