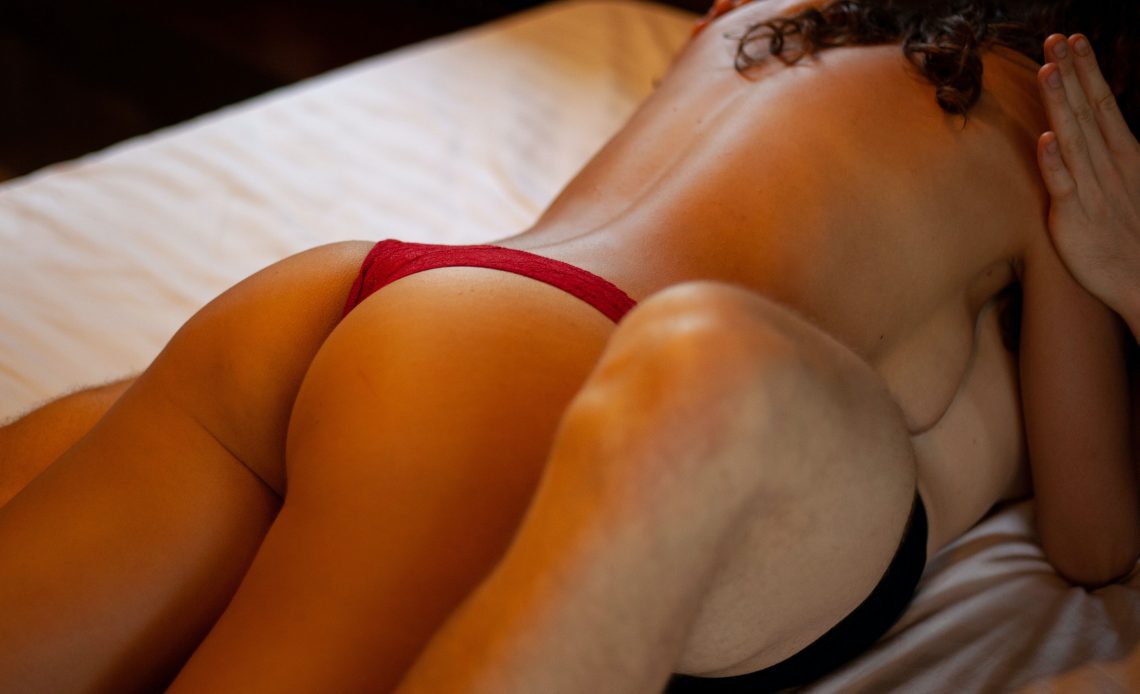 Are you working with a small Johnson? You're not alone, and trust us—you can do a lot with a small penis, so long as you know what to do.
The best sex positions for a lady's pleasure depend almost entirely on how big your penis is. In this article, find out the top positions that women find intensely pleasurable with a smaller D.
Why the Right Position Matters
The biggest problem with a small penis during sex is slippage. In certain positions, it might fall right out. And if you're in a hot-and-heavy moment and do another fast thrust, you risk bruising—or even breaking—your penis.
For everyone's pleasure and safety, spend some time learning the positions that suit your size.
The Best Positions for Penises <5"
Everyone defines a small penis differently. The sex positions listed below are amazing for guys in the 3" to 5" range.
1. Cowgirl
Any woman-on-top position is a pretty good bet. Not only can she do what feels best for her, but guys with very small penises can deeply penetrate without falling out. Motions like stirring and grinding are outstanding, both for their feel and reduced risk of slippage.
Our one word of caution—it may take just a bit of communication at first. It's normal to have to direct a new sex partner in what feels good and what's dangerous, whether you're large or small. Every penis is different, so no matter how experienced your partner, there's always a risk of a slip-up until you get used to one another.
2. Legs Up
Multiple positions fall into the legs-up category. The idea is to have the woman bring her legs up while lying down. She might rest her thighs against your chest with her feet over your shoulders or right outside of them. You can do this with her on her back with legs spread wide (the seashell) or on her back with her thighs to her chest if she isn't as flexible.
3. Face-Off
With face-off, you face one another and are chest-to-chest, an ideal arrangement for good penetration with a smaller penis. The guy sits up on the edge of the bed with her straddling on top. It's pretty much a very intimate hug position.
4. Table Top
Have your partner lie on her back on the bed, with her lower half hanging off. You stand up, have her wrap her legs around you, and grab onto her hips. With her legs up, you have maximum penetration ability, so even a smaller Johnson can reach her G-spot.
5. Doggy Style
Doggy style can be a good position for guys with moderate packages, but it can be difficult if you're 4" or smaller. With doggy style, you have a good view and excellent control. You may find that different angles work better than others, which can vary from one sex partner to the next. You might try having her butt up and chest down or have her on all fours while you enter from behind.
Other Strategies for Orgasmic Sex
The larger your penis, the more adventurous you can safely be, with 5" or more a bit more versatile. Men with dicks around 6"-8" typically have the most options and can stimulate the sensitive area near the cervix.
There are ways to make your penis bigger. You might try penis sleeves or extenders, two sex toys that you slip over your penis to bring greater sensation for her immediately.
Another option? Commit a few months to make your penis bigger, permanently. With the Phalogenics male enhancement program, you follow a doctor-created plan to add inches to your girth and length. It's affordable, simple, and requires zero embarrassing gadgets. Find out more here.
PHALOGENICS This Simple System Grows Your Dick LEARN MORE