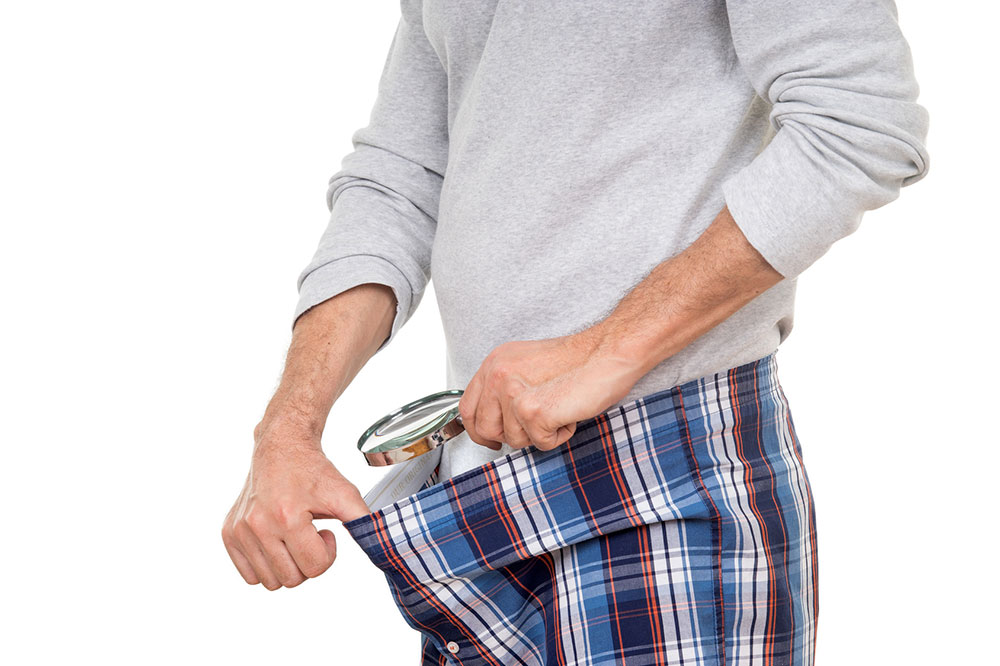 Has size become an issue in your relationship? This is a common problem felt by many couples. Read on for tips and advice for dealing with small penis problems.
There's a popular phrase that indicates it's not about the size of the boat, but rather the motion in the ocean that makes all the difference. If we're keeping with this euphemism – let's be totally honest, the smaller the boat, the better the ability to navigate the high seas.
Just because a man may have a smaller penis doesn't mean he can't steer the boat in the right direction. Quite the contrary.
Men with a smaller penis just have to be stellar captains in the bedroom; they have to know their passengers and be prepared for any potential problems that may arise.
The average erect penis size is about 5.2 inches long, however, most men feel relatively inadequate. These feelings of inadequacy based on penis length and size can lead to problems in the bedroom.
But, negative thoughts on your penis no longer need to bring you down!
If you are a man that is struggling with small penis problems, then read on for ways to combat these issues in your relationship(s).
Dealing With Small Penis Problems
Get In Position
If you're working with a member that is not the tallest in the class, have no fear!
There are hundreds of different types of positions and sexual experiences that are just waiting to be tried. Furthermore, there are ancient sexual practices such as Kama Sutra that can expand the sensual mind as well as maximize the sexual pleasure without noticing any issues or small penis problems.
A few of the best options with the highest satisfaction:
The Mortar and Pestle
This is essentially the missionary position, but with a pillow underneath the woman's finest asset. The key to making this position magically climatic is to work a more circular, grinding motion where the woman's clitoris has the opportunity to rub against the top of your pelvis.
The Really Good Dog
Here's a fantastic adaptation of doggy style, where a woman simply keeps her legs together while you enter from the back. This is an incredibly efficient position because your partner can lower or raise her head to find a position that ensures maximum penetration.
The Slippery Mermaid or the Slow Slider
Both of these positions allow the woman to tighten her muscles around your penis while moving in a steady up-and-down motion.
The Slippery Mermaid focuses on the woman lying on top with her legs squeezed together between your man thighs. The Slow Slider focuses on you in the driver's seat, with the woman still keeping her legs together. Both positions should begin with a slow forward and backward movement for optimal sensation.
Don't Skip Over the Foreplay
So what if you don't have a jackhammer to bang around with; many women would much rather avoid such a large tool anyway.
Plus, women need a man that has some attention to detail.
If you struggle with small penis problems, then you should be studying all of the best tips and tricks to mastering the art of foreplay. Most women are looking for a bit of personal attention towards their nether regions before the ship comes to port.
By simply focusing on her clitoris, utilizing some toys, and working around her erogenous zones have absolutely nothing to do with penis size. Women that feel satisfied could care less whether you're swinging a 3 inch or a bigger-inched penis.
Go Easy on the Lubrication
Ever try making your own slip-n-slide out of a huge piece of tarp and a whole bunch of dish soap? If not, let me explain the issue.
Sure, it's a ton of fun at first, but once the tarp is full of liquid – no one can get a grip to actually enjoy the slip-n-slide. It's just a slippery mess and everyone wants to go home.
The same is true for using lubrication.
A little will always go a long way, especially if you are worried about dealing with small penis problems. Too much lubrication will reduce the friction and just feel like you can't get a grip. Once that happens, sensation is reduced and overall feeling is minimized.
Chat About What Works
Relationships are always best with communication, however, we're not really worried about the emotional aspect of relationships right now, are we?
You're looking for how to minimize issues with small penis problems and maximize your sexual relationship. So, let's focus on what type of communication you need to embrace your member and make her re-member your sexual encounter.
Do your homework and know what you want to try before ending up in the sack. Don't just come up with ideas on the fly – that's not helping anyone.
Know which foreplay activities you want to include and have a loose idea of which positions work best with a smaller penis. Then, ask her if she likes each part of your to-do list while you're doing the list.
Not only is this a great way to see which things work for your smaller member, but it's a pretty hot form of dirty talk between the sheets.
Enhance Your Options
Having small penis problems doesn't have to be something that plagues you for life! You don't have to let penis size dictate your relationships, your self-esteem, and your confidence.
There are options that could help you enhance your size and your performance.
Simply incorporating male enhancement exercises into your daily routine can produce results that may be just enough to send your penis envy out the window and into your own bedroom.
Another option is to try one of the many male enhancement routes. This can include pills, creams, exercises, extenders/pumps, or any of the many varieties of penis enlarging paraphernalia. Many have extensive proven records of success, whereas others don't seem to have the same results for every man that tries to increase the size of his manhood.
A growing fan favorite is the incorporation of science and exercise to increase penis size. There's just something invigorating about a quality morning workout that involves the use of the most stimulated muscle on the male body.
Regardless of how you decide to tackle any small penis problems, remember to do so with confidence! No one likes a whiny, low self-esteemed man in the bedroom.
Man up and embrace your piece. If you're swinging a small hammer, then become a foreplaying, positions-savvy expert that knows how to use that hammer. If you want to add more girth to satisfy your girl – it may be time to look further into your options of quality male enhancement.
They do say to go big or go home.
Keyword(s): small penis problems
PHALOGENICS This Simple System Grows Your Dick LEARN MORE