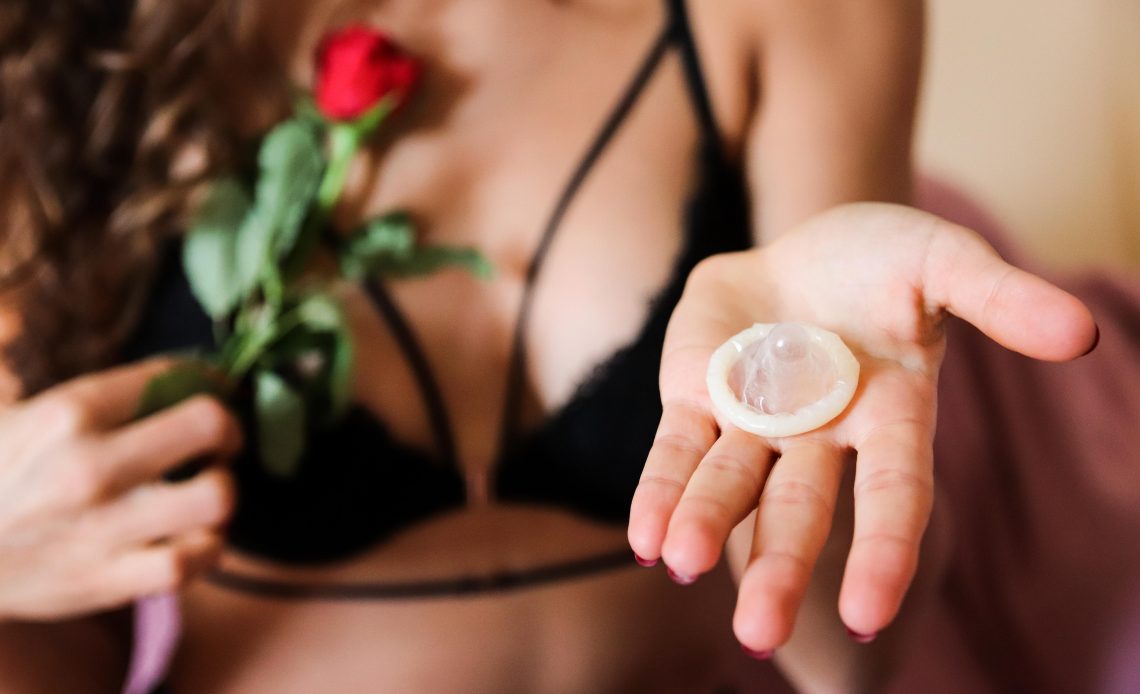 Most guys don't like wearing condoms. But they're the only way a man can protect themselves from STDs or an unexpected baby.
If you dislike condoms because they feel uncomfortable, reduce sensation, break, or don't stay on, it's probably because you're wearing a condom that's either too small or too big for your Johnson. 

In this article, we're going to help you find the right condom for you so you can enjoy greater sensation during sex.
Condoms Sizes Vary By Brand
While most people think you can just walk into the gas station or pharmacy and pick up whatever brand of condoms is the cheapest, that's not the best strategy.
Given the variability in the length and girth of the penis from one person to the next, it shouldn't come as a surprise that different condoms are going to fit some people better than others.
Some brands work better for the average penis while others specialize in fit for longer, shorter, narrower, or thicker penises. Choosing the wrong size can negate using a condom altogether if it leads to a condom that breaks or comes off during sex.
But how can you know which brand and style are right for you? The trouble is that condom manufacturers don't give the ideal size range on the package. Fortunately, we've done that work for you.
The Ultimate Condom Guide
We're going to break condoms into three categories: snug fit, average fit, and large fit. To find which size works best for your penis, you'll need to figure out how your penis size compares with the average (more on this later).
Snug Fit Condoms
GLYDE Slimfit
CautionWear Condoms
Atlas True Fit
Sir Richard's—Ultra Thin, Pleasure Dots
Average Fit Condoms
Trojan Condoms (except Magnums)
Lifestyles—Extra Strength, Turbo
Durex—Extra Sensative, Avanti Bare Real Feel
L. Condoms—Classic, Do (Each Other) Good
Beyond Seven—Studded, with Aloe
Kimono—MicroThin, Textured
Large Fit Condoms
Trojan Magnum Line
Lifestyles—Large, KYNG Gold, SKYN Large
Durex XXL
L. Condoms Large
Kimono Maxx
Sir Richard's Extra Large
Which Size Should You Choose?
When shopping for a good condom, you need to know how your size compares with the average penis size.
According to a study published in the British Journal of Urology International, the average erect penis length is 5.16" and girth is 4.59". The trouble with this study is that the numbers don't look at all races equally, so the average may be a bit larger.
If you're under 5.5" long or 4.6" thick, try snug fit condoms. From 5.5" to 6.5" long and 4.6" to 5.5" in girth, go with an average fit. It's not until around 6.5" long or 5.5" thick that you should consider a larger fit condom.
Some guys are going to have penises that are short but thick or long but thin. If you fall into one size category based on penis length and another based on girth, you should try condoms from both categories to find your best fit.
Even a small difference in the condom size can cause discomfort, tears, or other issues, so it's a good idea to experiment and find your best fit.
Typically, we recommend trying at least three condoms before deciding which one works best for your penis. If you fall between sizes you'll probably need to try even more before finding a good one.
Wish You Were a Magnum Wearer?
No man wants to pull out a slim fit condom…but that's much better than wearing one that minimizes your sensation.
If you want to bring more to your lovers, you're not alone. Most guys want more than they were born with. Fortunately, there are ways to accomplish your goals without risky and expensive surgery.
Phalogenics is a male enhancement plan that has helped thousands of men add inches to their erect length and girth. To become one of our many success stories, click here to learn more about Phalogenics.
PHALOGENICS This Simple System Grows Your Dick LEARN MORE