What is the average penis size?
When erect; the average penis measures in at about six inches long. This might be the average size, but there are many men out there who are shorter, sometimes much shorter, than six inches. If you are one of these men; you might be concerned with your ability to please a woman. There are many advantages to size, but you are not lost without it. The length doesn't matter as much as the width does. If you are wide enough to create friction; you can give her an orgasm. Besides, some men with larger penises tend to drill their long penis into the woman when they would much rather be made love to. Sex is not supposed to be painful. Many women complain about men that are too large because it hurts. Below are some tips that will help you in giving a woman an earth shaking orgasm every time even if you have a small penis. Some good foreplay, the right positions and penetration can help you blow your partner's mind without the luxury of a large penis.
You have a lot to do before penetration
Penetration is a major part of sexual intercourse, but you have some work to do before you penetrate, especially if you have a small penis. Foreplay is crucial even if you have a big penis. If you bring your mate close to orgasm and increase her arousal before you even enter her; you won't have as far to go to give her an orgasm with penile penetration. Then you can use one of the positions below to intensify her orgasm.
Mind-blowing Foreplay
There is no rule of thumb when it comes to foreplay except paying attention. Pay close attention to what turns your mate on the most and do it. Kiss her softly and touch her all over. Don't grope and paw at her. Caress her and make her feel good. Tease her and make her crazy with anticipation. Add some more anticipation to heighten her arousal. Talk dirty to her. Use a sex toy on her, maybe one of her vibrators. You could even spank her a little if she's into that. Whatever she is into; tease her and please her with it.
Don't Forget the Clitoris
During foreplay, you're going to want to stimulate her clitoris as much as possible. This can be done with oral sex or entering her with your fingers. You should give her at least one orgasm before penetration. When woman have their first orgasm during foreplay; the subsequent orgasms come easier and more frequent. Then she will be ready for some of these positions.
Small Penis Positions for Great Sex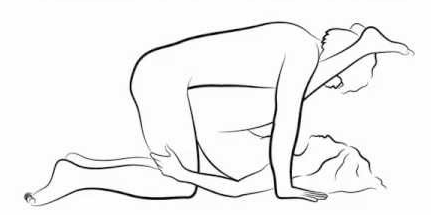 Folded Deck Chair For this position, your partner lies on her back with her legs in the air. Push her legs back as far as it is comfortable for her until her knees are by her head. For easier access; put a pillow under her ass. This will give you the sensation that you are completely filling her vagina with your penis when you enter her. She can only stay in this position so long so it's best to figure out a way to hold her legs back for her. Helpful hints: Encourage your woman to use her fingers to stimulate her clitoris in this position for added pleasure.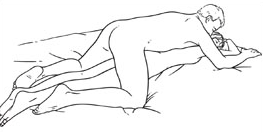 Laying Rear Entry This position drives a woman crazy! Have her lie on her stomach with her legs closed. For easier access, put a pillow under her hips so her vagina is in a better position to enter. Straddle her just below her hips and spread her legs just enough to get your penis in. This will keep her vagina clamped down on your penis providing heightened pleasure to both of you. Helpful hints: Be sure to keep your full weight off of her and brace yourself on the bed or headboard. Also, for smaller penises, you can push her thighs together when you are inside her so she will feel more friction.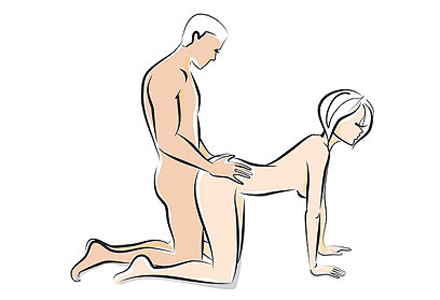 Doggie-style This is a familiar position, but if you do it right; your small penis will feel just as good as a large one. Have her get in her most comfortable position with her head on the pillow and her ass in the air. Have her arch her back so it will feel better for both of you and women look extremely hot in that position. It's easy and most women are familiar with it.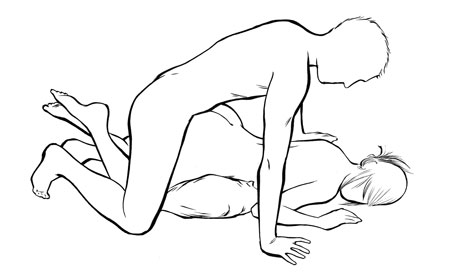 The Flatiron This position is quite similar to doggie-style, but the best place for this position is the floor. Both of you kneel down and have her lean over some comfortable furniture. Slowly push her legs open and put yourself inside her. She could always put her head down and use her hands to stimulate herself while you are inside of her. You also have hands free if she is into spanking or hair pulling.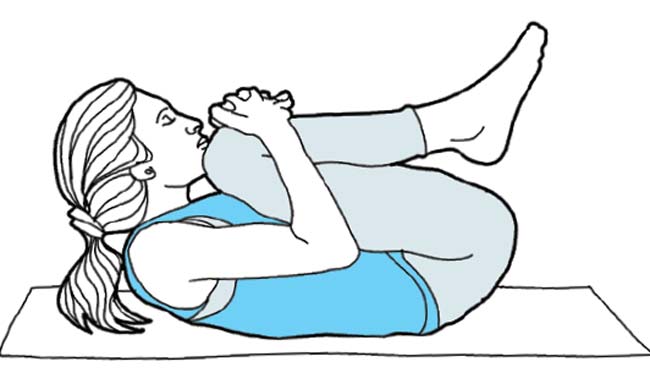 The "V" Have your mate lie on her back much like she did in the Snake position. This time have her spread her legs apart. Bend her knees until her feet are up by her hips. Have her hold her feet in that position as you enter her. This allows for very deep penetration and a small penis will be able to go deeper than normal. From your perspective; the bottom half of her body will be in an upside down "V" formation. Helpful hints: This position allows you to stimulate her by using your fingers to tease her clitoris or maybe even tease her asshole. You should feel her vagina clamp down on your penis in this instance.
Yes, size matters, but you don't have to let a small penis keep you from satisfying your woman. There are many ways that we have discussed here to give a woman more pleasure and add to your pleasurable sensations as well. Foreplay is always important, but if you have a small penis it is crucial. If you give her an amazing orgasm with your mouth and follow it up with the positions we have discussed here; she will have mind blowing orgasms every time. Or you could join Phalogenics the #1 Penis Enlargement Program on the internet.
PHALOGENICS This Simple System Grows Your Dick LEARN MORE