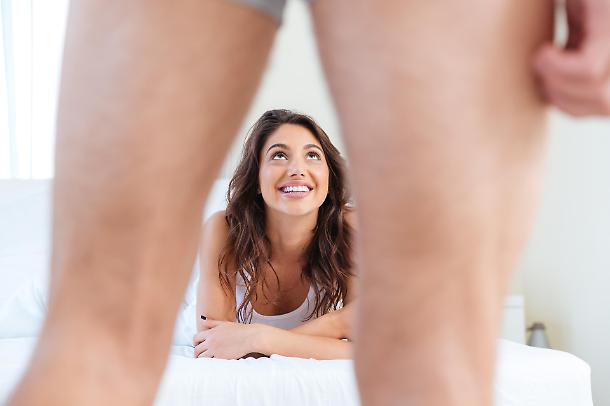 Have you ever noticed that you get plenty of blowjobs at the start of your relationship, but their frequency slowly dwindles over time? You're left wondering why you haven't gotten to lay back and enjoy some good-old-fashioned fellatio in weeks, or even months.

The truth is, many women actually enjoy going down on you. That whole "oral fixation" thing is real, and you ought to be using that to your advantage.

But there is one thing that many men aren't doing that ruins their chances of receiving regular oral sex. What it is might surprise you.

Give Your Privates Some TLC
Let me ask you a question—how well do you groom your bush…or thoroughly clean your whole penis-to-butt region? If my experience as a woman who's had a string of boyfriends means anything, my guess is that it's far less often than it should be.

Women understand a simple fact—spend some time on your appearance, and your sexual possibilities are endless. We shave our whole bodies. We do our hair. We put on makeup and make ourselves smell like luscious flowers every single day.

It's not easy, but it's worth it. We feel great. Men give us the attention that we desire. It's really a win-win.

Some men, however, seem to believe that self-care is a female-only thing. Especially once they settle down in a long-term, monogamous relationship.

I've dated men who started out with fully-shaved or trimmed bushes. They showered every day and were so-fresh-and-so-clean where it matters the most. I wouldn't have to hold my breath or pull a stray pube from the back of my throat when we were getting down and dirty…

Fast forward a year down the road, and somehow they've decided that their swampy manhood is god's gift to women in its natural state. This is the single biggest turnoff, and not one that most women want to talk about.

"Um, sweetie…your dick is gross. You need to shower..and shave…and clean your taint better."

It's just not a conversation that we want to have. And, rather than have this awkward conversation, most women will simply steer clear of the danger zone and keep their heads up top, where things are better kept.

Imagine if all it takes to get a few more blowjobs is some quick-and-easy grooming. The benefits are definitely worth the time.

But Do I Really Need to Shave?
No, what you do or don't do down there is your choice. And some women don't love a man who is completely bare down there. But my question is, do you like blowjobs? Most women would prefer at least a moderate trim to keep things a bit more manageable.
What Else Can I Do to Get More Action?
There are a ton of things that you can do to up your chances of getting good oral sex. You could give her a massage, pleasure her before you ask for anything yourself, or even clean the house or buy her a present.

But if your nether regions aren't tidy and clean, even those things will yield minimal results.

Here at Phalogenics, we're committed to helping men achieve the sex lives they've always dreamed of. Whether we're showing you how to boost your penis size or sharing sexual do's and don'ts, we want you and your lover(s) to achieve a sex life that makes your neighbors jealous.

PHALOGENICS This Simple System Grows Your Dick LEARN MORE