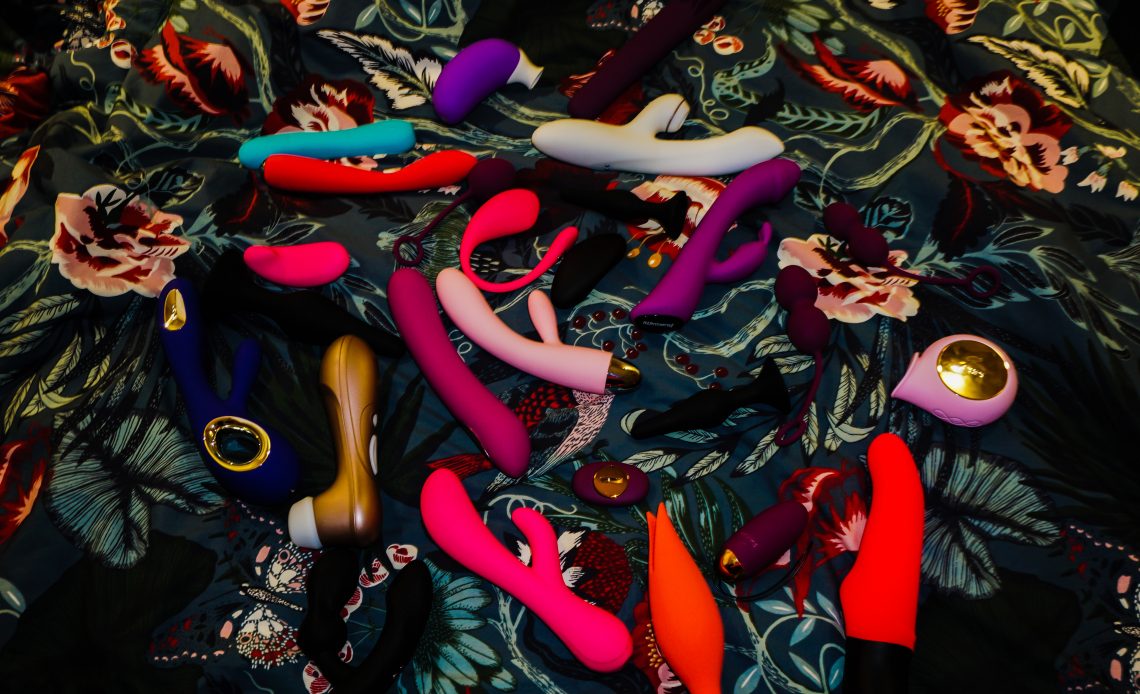 Erectile dysfunction is a common problem, but that doesn't make it any easier to deal with. When you're unable to get an erection or maintain one during intercourse, it can feel like your sex like if over.
While a visit to the doctor's office is a must when you have ED, there are also things that you can do without medications, procedures, or lifestyle changes to regain a vibrant sex life.
The secret to good sex when you have ED? Sex toys.
We're going to share with you the best sex toys to help increase your pleasure and hers.
1. Manta Male Vibrator
Vibrators aren't just for women—there are vibrators designed specifically for the penis. Male vibrators are a bit different from those designed for women, with stronger vibrations for optimal effect.
The Mantra Vibrating Stroker by Fun Factory is helpful for men who need a lot of sensation to get or maintain an erection. If you struggle to get hard before sex or lose your erection mid-way, a male vibrator may be just what you need to fix your ED.
2. Fit Fat Boy Penis Sleeve
Penis extender sleeves are an excellent sex toy for enhancing her pleasure. Sleeves make the penis thicker and longer, and the best ones have added texture for even greater female sensation.
Because penis sleeves add structure and rigidity to your erection, they facilitate penetration even when you've gone a bit soft. One of the best penis sleeves around is the Fit Fat Boy thanks to its pleasure-enhancing design. Unlike other sleeves that decrease male sensation, the inside of the Fit Fat Boy feels so good that many men use it not only for penetrative sex, but during masturbation sessions too.
3. Bathmate Hydromax Penis Pump
Okay, so a penis pump isn't technically a sex toy, but it's one of the most powerful over-the-counter tools for erectile dysfunction. By pumping blood into the penis, a high-quality penis pump can quickly get your penis hard.
Bathmate is a leader in the penis pump industry, and we love the Bathmate Hydromax Series. It offers incredible bang-for-your-buck and comes with a 60-day money-back guarantee.
Another perk that comes from a penis pump? It can temporarily boost your length and girth for your sexual rendezvous. Want a more permanent solution? Check out the Phalogenics male enhancement program and add inches to your erect girth and length, permanently.
4. Satisfyer Cock Ring
Cock rings are a must if you're able to get hard but struggle with staying hard. Once you have an erection, you simply slide the ring in place at the base of the cock for a longer-lasting boner. And if you have a hard time getting hard, using a penis pump and then a cock ring can get you to where you need to be.
There are a lot of cock rings out there, and it's really personal preference as to which is the best type. The primary distinction is between cock rings that vibrate and those that don't. Most couples prefer vibrating cock rings because they add even more sensation for both him and her. Try the Satisfyer for a rechargeable vibrating cock ring made from high-quality silicone.
5. Duke Vibrating Prostate Stimulator
A lot of guys are hesitant to experiment with butt play—if it's their butt, that is. But let us tell you, that's a real shame. Guys have a hidden pleasure center just inside the rectum called the prostate. Just a little stimulation can make you rock hard in seconds, even for many guys who typically struggle to get erections.
And the best part? Neither you nor your partner has to do it yourself. There are bountiful prostate massage sex toys on the market that make instant erections and extraordinary orgasms simple. We like the Duke Vibrating Prostate Stimulator. It's rechargeable, made from high-quality silicone, and it stimulates the perineum and prostate at the same time.
PHALOGENICS This Simple System Grows Your Dick LEARN MORE